Estate Vineyard Templeton Gap
In the Templeton Gap, the 127-acre ONX Estate Vineyard is home to complex soils, views of the historic Santa Rita Creek, and some of the most dynamic temperature swings in the Paso Robles AVA. The diverse soil, elevation, and sun exposure makes for a complex wine in your glass, and we'd love to show it to you!
Vineyard Tour
Enjoy a private tour and tasting at the ONX Estate. Your adventure begins at the Tractor Shed, a charming outdoor patio offering breathtaking views of the enchanting Santa Rita Creek. As you bask in the peaceful ambiance, your host will take you on an off-road vehicle ride through the vineyard, where you'll have the opportunity to savor the exquisite flavors of the wine right where it was carefully nurtured and grown.
Available Thursday – Monday, cost is $45 per person. Complimentary for Collective Club Members. Book your tour here!
Celebrations
Are you celebrating an anniversary or a birthday? Let us help you celebrate! We will put up a banner in our Tractor Shed and have locally made cupcakes at the end of the tour. $35 includes two cupcakes. There is a $5 charge for each additional cupcake.
Picnic In The Vineyard
Indulge in a blissful retreat with a private picnic amidst the stunning views of our sprawling vineyard. Our team will set up a secluded picnic area exclusively for you, complete with a picnic basket with a bottle of wine, locally made sandwiches, water, and a tantalizing fruit salad. When in season, the picnic also includes Estate Orchard Fruit and Lavender. Immerse yourself in the tranquil ambiance and savor the flavors of nature in this unforgettable picnic experience.
Available Thursday – Monday, with pricing starting at $100 per person (max 8 people). Collective Club Members' discounts apply.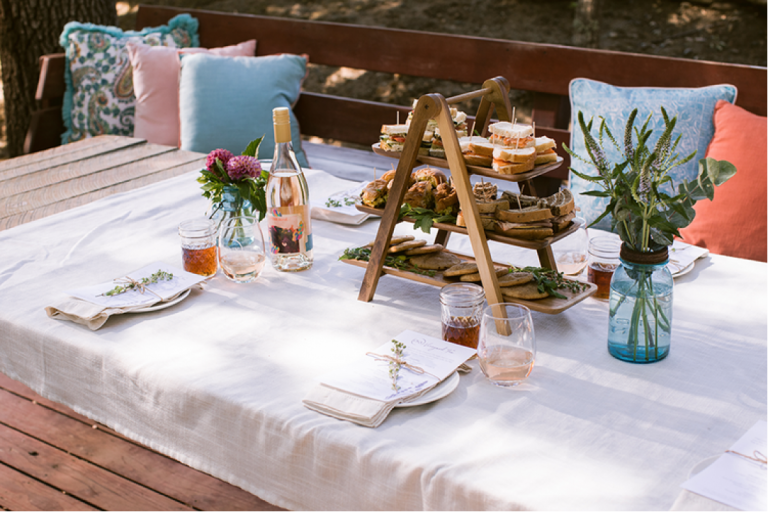 Afternoon Tea
Treat yourself to an Afternoon Tea with Wine, hosted at the picturesque ONX Estate. Immerse yourself in the exquisite ambiance of our vineyard as you sample our expertly paired collection of 5 ONX Estate wines, carefully selected to complement the delectable flavors of our locally made tea sandwiches and pastries. The Afternoon Tea can be hosted at the Vineyard or, for guests staying with us, at any of our Vineyard Properties.
Available Thursday – Monday, $348 for groups of 2-6 guests and $58 for each additional person. Collective Club Members discounts apply. We kindly ask that reservations are made a minimum of 48 hours prior to the preferred date. To reserve, book online here.
Collective Exclusive: Oasis Rental
Reserve one of our semi-private vineyard oases. Bring your small group of 10 guests or fewer to relax and sip wine in our tranquil hideaways.
Members are welcome to bring their own picnic lunch.
Available for Collective Members Only with a 2-bottle purchase. To reserve please contact Happy Saunders at (805) 400-0956 or Happy@onxwines.com.
Looking for an unforgettable event location?
Look no further then ONX! We have multiple unique and stunning venue options, and we are able to accommodate groups of up to 150 people.